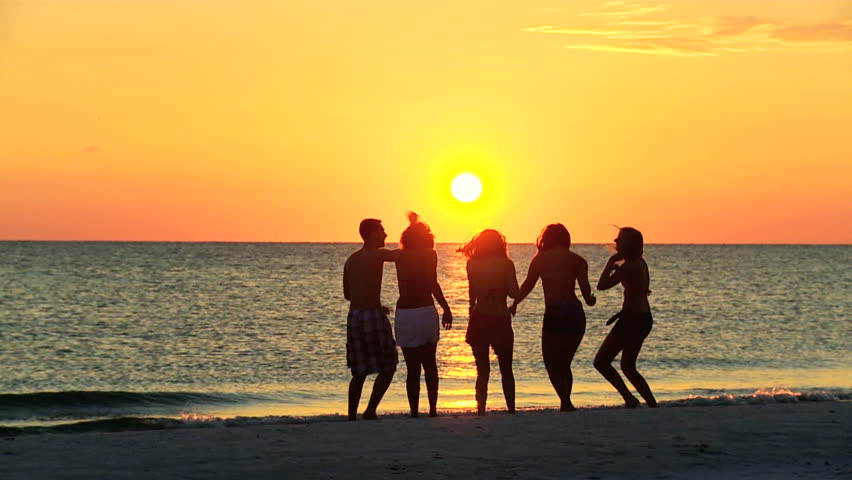 (Image Source)
Filipinos sure do love their long weekends.
In fact, Filipinos have such a unique affinity for long weekends that they start planning their travel itineraries weeks or even months prior to the said dates. Some would even go as far as booking those prospective dates and weekends for vacation excursions even when there has been no formal holiday declaration from the Philippine government just yet.
Looking forward to long weekends is understandable. After all, being perpetually busy people working from 9-5 five to six days to week, Filipinos crave those weekends that give them more than the usual one to two-day respite. More importantly, long weekends are seen as an avenue for out of town trips and perhaps, extended vacation days. In this regard, some, if not most, of us would already start scouring for articles that would give map out long weekends as early as the week prior. In this article, you are presented with a list for the year's prospective and declared holidays. This year, there is a whopping total of 21 holidays and at least ten long weekends.
With this mind, you can start grabbing your travel journal and plan your getaways as early as today. While some of these holidays do not fall on a Friday or a Monday, you can plot your leaves accordingly to make your weekends even longer. Long weekends are arranged below by Month with suggestions of when you can find your office leaves so as to maximize the weekend. A calendar of activities for the Philippine long weekends in 2019 follows with suggestions of where to go and what to do follow.
The Philippine Long Weekends 2019
(Image Source)
(December 29- January 1)
2019 proves to be a very eventful year indeed as the first long weekend falls squarely on the year's start. After celebrating a long Christmas break, students and employees are afforded an even longer respite on the first weekend of 2019. December 29 and 30 (coincidentally a holiday as well) are Saturday and Sunday respectively. December 31 and January 1 are holidays which mean Filipinos have a four-day break in total (From Saturday to Tuesday (New Year's Day).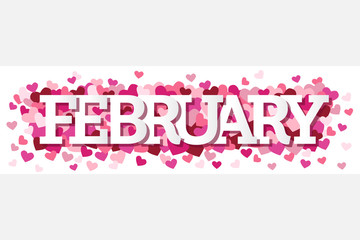 (Image Source)
(February 2- February 5)
Filipinos, in their bid to be more inclusive to Filipino-Chinese individuals, celebrate Chinese New Year. As a result, the Philippine government has declared February 5 (Tuesday) as a non-working holiday. Admittedly, while the holiday falls just outside of a weekend, you can file for a leave from work on Monday (February 4) to maximize the weekend and enjoy a four-day furlough starting on Saturday (February 2).
(February 23-25)
Apart from celebrating Chinese New Year, the Philippines gets another holiday every February which falls on the 25th. This yearly holiday is to commemorate the EDSA Revolution Anniversary—which falls on a Monday this year giving Filipinos two long weekends just in the month of February alone.  

(Image Source)
(April 6- April 9)
In this year, the celebration of Araw ng Kagitingan falls on a Tuesday (April 9). To enjoy a four-day vacation from Saturday (April 6) until Tuesday (April 9), plot your leave on Monday (April 8).
(April 18- April 21)
Being a country of mostly Christian and Catholic devotees, the Philippines celebrates Holy Week each year. In this year, Holy Thursday falls on Thursday (April 18) and Easter falls on April 21 (Sunday) giving individuals a four-day long weekend.

(Image Source)
(June 1-June 4)
To be more inclusive of our Muslim brothers and sisters, the Philippine government has since then declared the observance of Eid Al-Fitr each year a holiday. While no formal date of June has been set just yet, it has been said to fall on June 4 which is a Tuesday. Maximize your weekend by filing for a one-day leave on Monday (June 3).
 
(Image Source)
(August 24-26)
August is known to be one of the months with the most Philippine holidays. This August, we get one Philippine Long Weekend in 2019. To remember and honor our fallen heroes, we commemorate the holiday on August 26 each year. Aptly called as the National Heroes Day, Filipinos take a holiday from work during this day. The event falls on Monday this year which affords employees and students alike a long break from work and school.

(Image Source)
(November 1-November 3)
To remember our dearly departed as well as given Filipinos a chance to visit their dead relatives in the cemetery, November first and second (All Saints and All Souls Day respectively) of each year are considered legal holidays. However, while All Souls Day falls on a Saturday this year, November 1 falls on a Friday which would resultantly give us one long weekend in the month of November 2019.

(December 21- December 25)
In this year, Christmas falls on Wednesday (December 25). However, as Christmas Eve (December 24) is considered a legal holiday, you might as well make it a long weekend by filing for an office leave on the 23rd of December (Monday).
(December 30- January 1)
The first workday of 2020 falls on a Thursday. This means that employees are given a full five days leave from work. As December 30 (Monday) is Rizal Day followed by December 31 which is New Year's Eve and New Year's Day (January 1), the end of the year marks as the longest weekend Filipinos will get to enjoy without filing for any office leaves.
CALENDAR OF LONG WEEKEND ACTIVITIES AND DESTINATIONS
JANUARY
Go surfing in La Union
(Image Source)
Looking to catch some waves? Then you should definitely go on a road trip and head on to La Union. Known to be the Philippines' surfing capital, La Union enjoys the biggest waves from July to October due to the South Swell and November to March because of the North Swell. While the road trip might be a lengthy one, it is definitely worth it once you see the majestic waves. So pack your bags and finalize your bookings with any of the La Union resorts and get your surfing gear ready.
Need a luxurious accommodation? Thunderbird Resorts in La Union offers several luxurious rooms and villas, restaurants, golf course and a casino.
Marvel at the beauty of Banaue Rice Terraces
(Image Source)
To kick off your year and start it on a high note, you should definitely see for yourself the beauty of the Banaue Rice Terraces. Dubbed as the "Eighth Wonder of the World" and recently featured in the fourth installment of the Avengers series, it is easy to see why so many tourists would flock this area. Apart from its sheer magnificence and beauty, the place is 2000 years old which is amazing by itself. Carved into the mountains of Ifugao with the use of crude tools, the place is truly a wonder.
FEBRUARY
Get a traditional tattoo in Kalinga
(Image Source)
Make the month of love a bit more memorable by traveling all the way to the mountains of Cordilleras and getting yourself a permanent souvenir, a traditional tattoo. Propelled to worldwide acclaim since her art and skill was posted all over social media, Whang-Od Onggay is the oldest living mambabatok (Kalinga tattooist). Until she recently began training her grandnieces at the trade, she was the only one left which made her one of the most sought-after tattoo artists in recent years. With no actual shop of her own, many travelers would still make the long trip up to Buscalan just to get their bodies marked by the legendary artist.
Be in awe by The Ruins in Talisay, Negros Occidental
(Image Source)
Dubbed as the Philippines' counterpart to the Taj Mahal, The Ruins in Negros Occidental has been regarded by many as the monument of love—making the place a very fitting visit for the month of February. As the story goes, the sugar baron Don Mariano Ledesma Lacson built his ten bedroom mansion fashioned after Italian architecture. It was said that he had this Italianate mansion built in the early 20th century in loving memory of his wife who had died during the pregnancy of his 11th child. During the Second World War, Filipino guerillas set the mansion on fire to prevent invading Japanese forces from using the building as headquarters with the intention of burning it to the ground. However, despite the smoldering flames that burned on for several days, the walls and foundation of the Italianate mansion remained intact leaving behind the beautiful ruins we can see in the city of Talisay today.
APRIL    
Have your breath taken away by San Agustin Church
(Image Source)
Deeply religious individuals might want to abstain from going on any extended trips during this Lenten holiday but that does not mean that they have nowhere else to go but home. If you wish to refrain from going on any trip as part of your Lenten fasting then perhaps you might want to use your extended weekend as a way to explore some of the most beautiful churches in your area. San Agustin Church is one of Manila's more aesthetic churches that holds a lot of history. It was built during the Spanish colonial period and has since then withstood seven major earthquakes.
Go on a trek to see the active Mayon Volcano
(Image Source)
Alternatively, you might want to see the active Mayon Volcano which is known locally as Mount Mayon. Known to be the volcano with the perfect cone due to its symmetrical cone shape, seeing this volcano at least once in your lifetime is definitely something you should do. The volcano and its surrounding areas form part of a national park that is certainly worth the visit whenever you have the time to go on a road trip to Albay.  
JUNE
Go canyoneering in Kawasan Falls, Cebu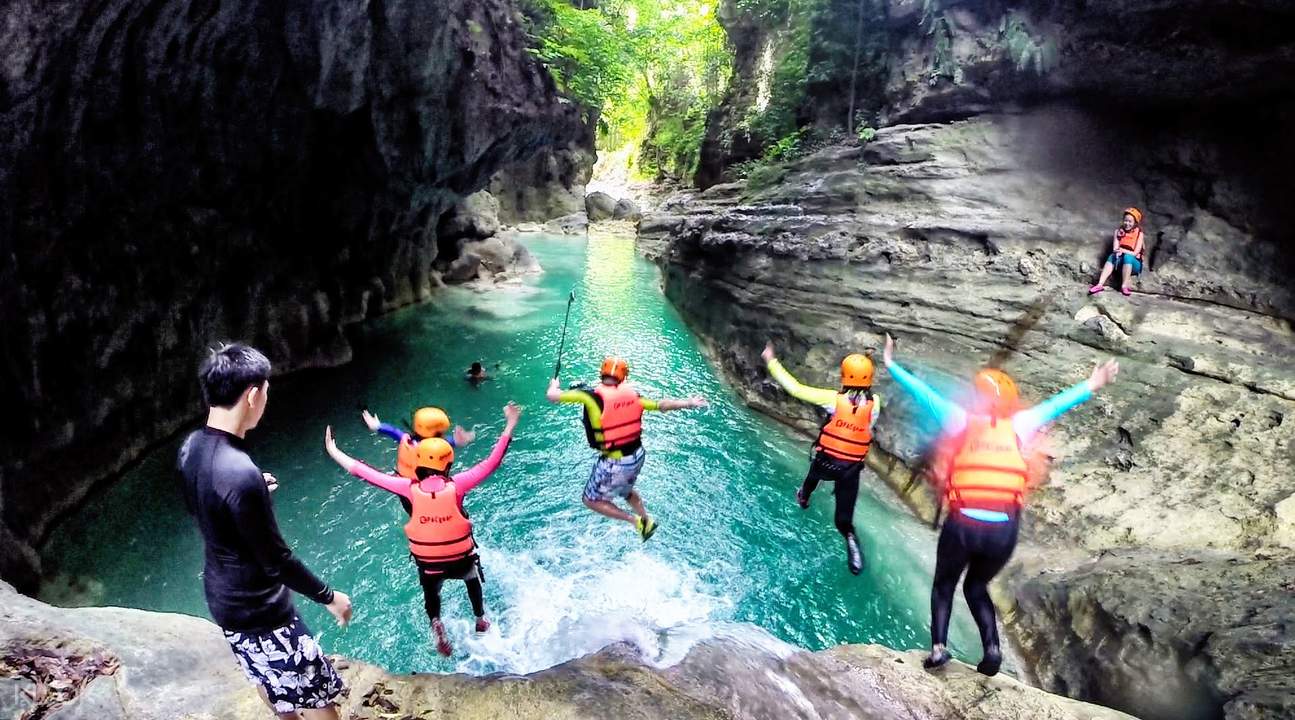 (Image Source)
As the prospective date for Eid Al-Fitr falls in the early June, there is a great chance that you can still get to enjoy the last vestiges of the summer season before we fully transition to the rainy months. However, if you wish to do something a little different than going on a typical beach day then you might want to visit Cebu and go on a canyoonering adventure in Kawasan Falls. Adventure enthusiasts will certainly love this high energy activity that involves walking, climbing, swimming and abseiling through the canyon's magnificent creeks and streams. The journey starts at Canlaob River on Cebu Island and finishes at the Queen City of the South's famous tourist spot, Kawasan Falls.
Explore Corregidor
(Image Source)
Located at the entrance to Manila Bay, the island of Corregidor is an easy day trip from Metro Manila. This historic city was then identified as a strategic defense location by the Spaniards when they arrived in the 16th century and aptly gave it the designation, "Island of the Corrector". The island was where all of the ships entering Manila are mandated to stop for inspections and since then, it has seen countless battles from the Spanish-American War to the era of American colonialism which makes for an interesting destination particularly for history enthusiasts.
AUGUST
Go on a food trip in Pampanga
(Image Source)
Individuals with a penchant for trying out different food items should never miss out on going on a food trip in the culinary capital of the Philippines, Pampanga. The food scene in Pampanga is eclectic and definitely unique owing to the people involved in making distinct Kapampangan cuisine. Apart from being home to a number of culinary personalities that are well-known in both the local and international food scene, Pampanga's cuisine is incredibly diverse that each scrumptious bite of Kapampangan food would give you a glimpse to its history. So, if you wish to sample some good eats, take full advantage of the long weekend in August so that you can scour the city for their most revered restaurants and eateries.
Go on a hair-raising experience in the Diplomat Hotel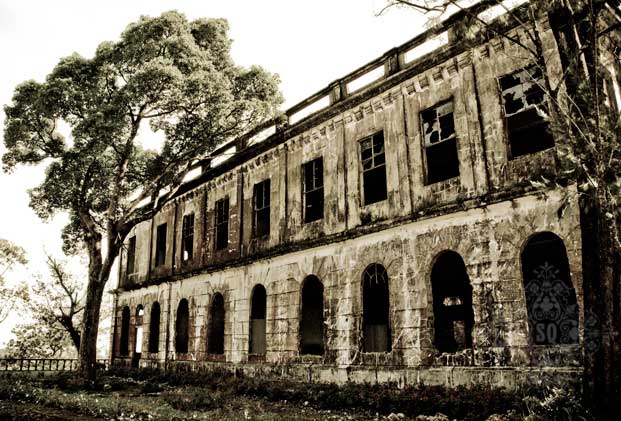 (Image Source)
If you are up for an experience that is anything but ordinary then you might want to try visiting the ruins of the old Diplomat Hotel in Baguio. Originally built as a retreat house for friars of the Dominican Order, much of the dilapidated building's mysterious history has now devolved into something that sparks intrigue among ghost hunters and paranormal investigators. Widely known to be one of the Philippines' most haunted places, the once beautiful Diplomat Hotel has now become a place of paranormal anomaly. Many people have recounted their stories of seeing headless apparitions at night and reported hearing cries, screams and banging on doors. As a place with haunted origins, it would be no wonder why the place routinely welcomes an influx of visitors. If you wish to experience something out of the ordinary and maybe even a little eerie, you should definitely visit this place.
NOVEMBER
Visit the Cemetery Beach
(Image Source)
If you do not have any dearly departed to visit on the month of November, make your trip for the long weekend in November a little more apt by visiting the Cemetery Beach off the coast of Anilao. Peppered with hostels and resorts, the coast of Anilao finds itself welcoming hordes of scuba divers flocking to the Philippines for its coral reefs. Apart from being known as a scuba diving hotspot, the beach is also known for being home to nearly 100 concrete graves which lies 20 feet beyond the pristine waters on one untouched stretch of the beach—definitely a sight you would want to see!  
See the Iron Butterfly's personal footwear collection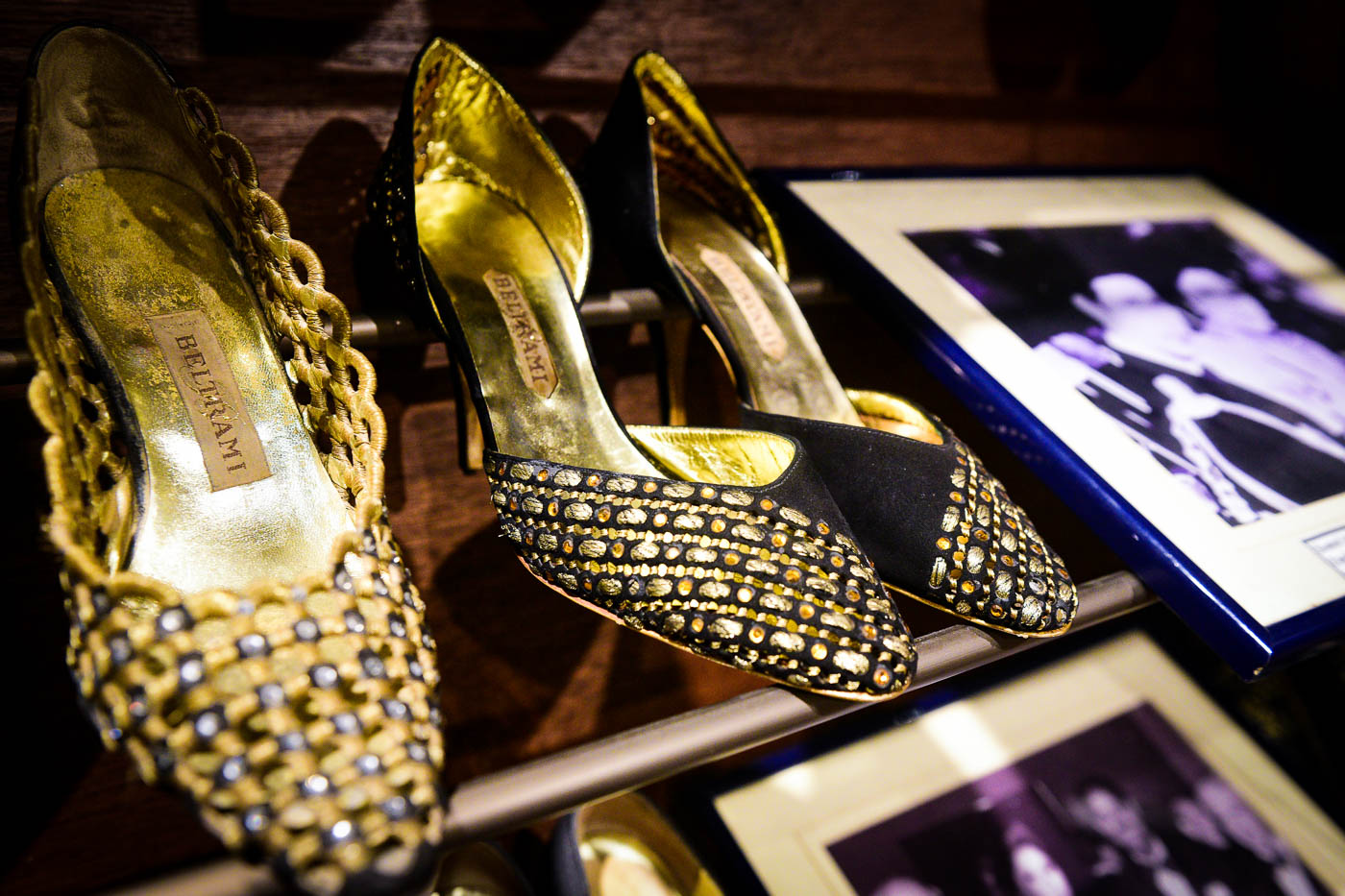 (Image Source)
Marikina is known to be the Philippines' shoe capital so it should not be any wonder why it also houses the former first lady Imelda Marcos's personal footwear collection. Aptly given the moniker "Iron Butterfly", Imelda Marcos once owned more than a thousand pairs of shoes. After most of their belongings were seized by the state, her collection of various shoes have since then been turned into a bizarre opulent display. Today, a part of her shoe collection can be seen at the Marikina Shoe Museum which, incidentally, also hosts the World's Largest Pair of Shoes.
DECEMBER
See the grand lanterns in Pampanga
(Image Source)
To feel the festive spirit of Christmas on the long weekends of December, you should head on over to San Fernando, Pampanga to see the Giant Lantern Festival. For more than eighty years, the city of San Fernando, Pampanga has been hosting this festival which is usually held on the Saturday before Christmas Eve. It is definitely a sight to see as you can get to witness the colorful giant display of parols fitted with thousands of light bulbs that would dance to the beat of the team's music of choice. Everything about this festival is a sight to behold—from the sheer size of the lanterns down to the kaleidoscopic colors that interplay to the sound and beat of the music.
Be in awe by Cavite's Christmas Display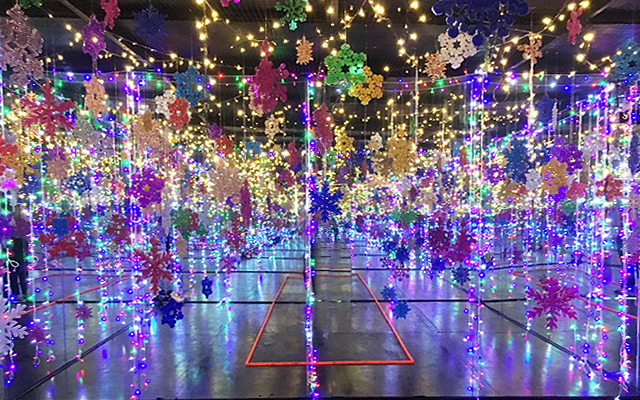 (Image Source)
When it comes to Christmas decoration, Kawit and Imus in Cavite go all out. Apart from the attractive Christmas decorations, these towns are also known for their festive attractions and presentations and the best thing about it is the fact that both towns are easily accessible from Metro Manila. Panunuluyan, as the locals have called it, is a dramatic rendition of Mary and Joseph seeking shelter in Bethlehem as performed by the locals themselves. However, the town's main allure during Christmas time is the Maytinis Festival which occurs on the even of December 25th. Imus has its own way of celebrating Christmas by having a month-long Paskuhan Festival which includes their own version of Panunuluyan. Whenever you are in town, keep your eyes peeled for the design decorations as the design theme changes with each neighborhood you pass by.
Now that you have an idea on which dates the Philippine long weekends in 2019 would fall, you better start planning your travel excursions and escapades for the year ahead. Remember, all work and no play would make you a dull individual. So, go ahead and give yourself something to look forward to and make 2019 a memorable year full of travel memories and adventures.